If you haven't been to our site lately… a lot has changed! From our focus to our genetics to even our web site! We hope you will take a moment and look around. We have a lot of great things in store for the coming year.
For over 25 years we have raised competitive club lambs. And, we have spent almost a decade selling lamb at some of the most prestigious farmers markets in the Mid-Atlantic. Although we have thoroughly enjoyed getting to know the consumer face-to-face, it has been challenging focusing on two completely segregated markets. This past winter we made the decision to re-prioritize and refocus on the club lambs, after all, that is what we love most.
The industry has changed dramatically in the past several years. To follow suit, we have introduced several strong Hampshire bloodlines into our flock. We spent the past year acquiring and incorporating top genetics, linebred to such great bucks as the Cabaniss-bred Allred-Elliott Composure buck through both Money Maker and Swamp Donkey, Duffy's Trunk and Young Jock bucks, and Millers' Masterpiece and Buckmaster bucks. We are very excited about the future of Cornerstone Club Lambs and can't wait to share our 2015 lamb crop!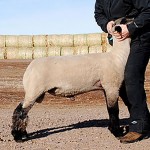 After getting out this year and attending several sheep shows and sales, we knew what bloodlines intrigued us most. With our focus on genetic pieces from Begalka, Droppert, Ellerbrock and Impact many of our ewes now go back time and again to great bucks such as the Cabaniss-bred Allred-Elliott Composure...
Read more posts