Our 2015 lamb crop was simply outstanding.  We have "Lethal Weapon" a Keeper buck lamb sired by "Arms Race" the Miller bred buck working so well for Impact Hamps out of our Impact 924 donor ewe.  Plus, our A.I. program allowed us to add a tremendous group of ewe lambs sired by "Apollo", "Trailblazer", and "Pimp Juice". Also, we were fortunate to be able to add a group of "Powerball" daughters from Ott club lambs and additional "Eroc" daughters from Ellerbrock's' that are simply outstanding.  We are committed to blending the genetics from three outstanding sire lines, "Arms Race", "Powerball" and "Eroc".  So we were blessed to have Brad and Deb Ott work with us on the purchase of "Soldier" their outstanding keeper buck lamb from their 2014 lamb crop who is sired by "Powerball" (Powercat X Maker) out of a top "100" daughter.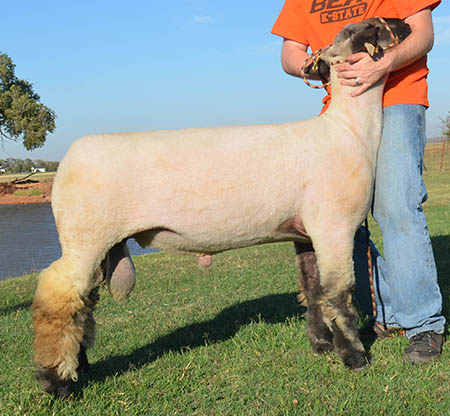 "Soldier" is a "Powerball " son out of a "100" daughter donor ewe who sired lambs that were competitive all across the country for Ott's.  He is massive topped "even as a yearling he has a deep groove down his top" and carries a wide flat hip with loads of leg.  He is round ribbed, yet shallow and attractive in his chest floor plus stands on a massive foot with tons of bone. Combine that with the fact that he is RR/NN and has all the shag you would ever want – and you see why we fell in love with him.  He is simply the best ram that we have ever owned.   Thanks Brad and Deb for this opportunity.  Photo of "Powerball" (Powercat X Maker) Soldiers sire is shown below below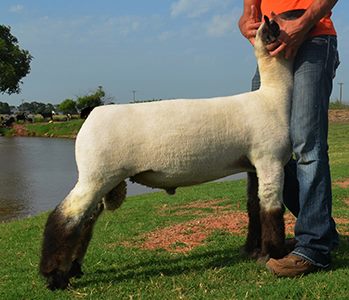 We will have lambs by " Fully Armed" the Impact bred son of "Arms Race" X "Beefy" (owned by Ott's, McGolden and Impact) and "Lethal Weapon" a Impact bred "Arms Race" X "Moneymaker". These rams bring power, touch, and muscle in attractive packages.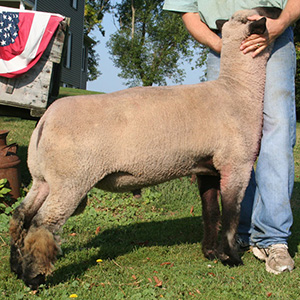 "Eroc"  Ellerbrock and Haws stud who is sired by "Eclipse" and out of a Wheaton "Untouchable" daughter.  Is QR/NN and the sire of a number of ewe lambs that we have been fortunate to add to the flock.  He was the sire of our popular Reserve Champion Division 3 Market Lamb at the 2015 Va State Fair Market lamb show and our Class winning ewe lamb as well.  We love his power, design and touch.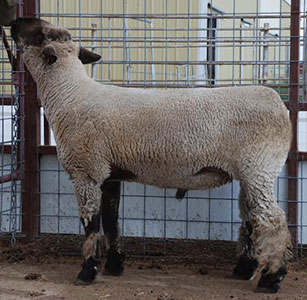 "Powerball" (Powercat X Maker) The Miller bred RR/NN  now at stud for McClennan in Colorado.